CONCEPT
Through our experience in manufacturing and sales of SR series thread rolling machines, pursuing an ideal thread rolling work, we contribute toimprove customer's productivity. We are also devoting ourselves to daily research and development for further improvement of our technology.
---
CEO MESSAGE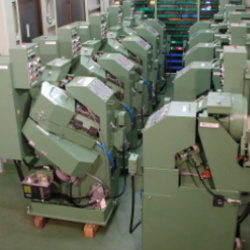 SR series thread rolling machines developed by our own, are carefully designed theoretically to make thread rolling work reasonable and smooth. As a result, machines are not only capable of handling various types of blanks but also of thread rolling to sustain consistent tolerance for long hours and smooth production without error in feeding blanks Unique structure of our SR series thread rollers enhance not only strength of the machine but also assures a long span of the machine life. As a matter of fact, some machines are still in operation since started working more than 40 years ago. By overhauling, the original machine performance can revive, and retrofit with our rolling monitor unit will convert the machine into a latest machine that will make your production steady and ease.
Based on our longstanding performance of SR series thread rolling machines pursuing an ideal thread rolling work, we have started manufacturing of secondary operation and specialized machines needed after heading operation. As we are well experienced with direct deal with our overseas customers. We act as your agent for import-export of various types of industrial machinery and also take care of installation & maintenance of imported machines. Making the best use of our technology in manufacturing of thread rollers, we are expanding our business activity. We will develop tools & toolings needed for machining parts, and machine parts for your need.
---
会社沿革
June, 1960

現在地において創業、自働木ねじ切機の製作・販売を開始

March, 1962

有限会社 協栄製作所と改称し、ローリングマシンの製作・販売を開始

April, 1983

隣接地を取得、工場として拡張

September, 1986

二次元CADシステムを導入

January, 2001

鉄骨2階建組立工場を増築、多様化した需要に対応

February, 2005

三次元CADシステムを導入

March, 2007

SR型ローリングマシンが葛飾区優良製品に認定

March, 2009

ISO9001認証取得

January, 2010

電機配線ECADを導入

October, 2012

有限会社 協栄製作所は組織を改め、株式会社 KYOEIとして全ての業務を継承しました。